Jefferson Security Bank Marks 150 Years with 150 Days of Random Acts of Kindness
Published on: December 20, 2018

SHEPHERDSTOWN, W.Va. (Dec. 19, 2018) – Jefferson Security Bank (JSB) will officially celebrate the rare milestone of 150 years in 2019. As the oldest operating corporation in the state of West Virginia, JSB is proud to be kicking off its anniversary with a focus on random acts of kindness over the next 150 days throughout our communities.
The Random Acts of Kindness campaign is the Bank's way of giving back to the communities that have supported them through the years, as well as a way to encourage kindness and generosity throughout the local community. In addition to acts by the Bank and its employees, JSB hopes to inspire others to participate and also pay it forward.
The Bank's first act was the donation of 150 toys to local organizations including Community Networks, Inc., Shenandoah Women's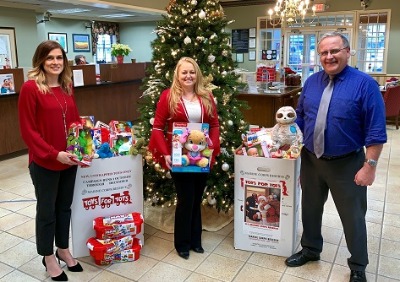 Center and Toys for Tots. Each toy will go to a local child in need this holiday season. "We are proud to support these organizations by being able to provide a moment of happiness to a child who might not otherwise get one," said Cindy Kitner, JSB President and CEO.
As the 150 Days of Random Acts of Kindness continues over the coming months, JSB will be sharing several acts of kindness with the public on their Facebook page. The Bank will also be asking others to share their random acts of kindness by using the hashtag #JSB150RAK on social media sites. "This campaign is a way to show the people in our communities how grateful we are for their support, while also promoting kindness from others," said Sara Wasson, Director of Marketing and Community Relations.
"We cannot emphasize it enough. The key to our success over the years has always been the close connection we've had with the people in the communities we serve. Decisions are made locally by employees who know and care about people in our markets. We always want to help make our communities a better place to live and work. It is because of those partnerships that we are here today, celebrating this amazing milestone," Kitner said.
Chartered on May 19, 1869 by seven prominent men in Shepherdstown, JSB opened its doors with only $1,750 and has grown to over $300 million in total assets today. The Bank has experienced it all and remained a trusted community partner even through the days of reconstruction following the Civil War, the Stock Market crash of 1929, the Great Depression and the recent recession of 2008.
Kitner said, "We've remained in our communities and grown because we truly strive to become financial partners with our customers, whether it is a small business or an individual. Jefferson Security Bank has always focused on building relationships with customers in our local communities by offering financial products and services that meet their everyday banking needs."