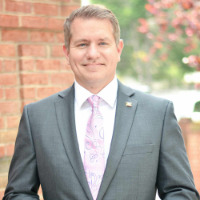 Don Jacot, Jr. is the Vice President and Commercial Loan Officer at our Charles Town Branch. He has been a member of our lending team for six years and has more than 19 years' experience as a lender.
Don is dedicated to helping businesses in the Charles Town area find the financing solution for their needs. He enjoys helping people become business owners and loves knowing that he is a part of their team who can help the business grow and succeed. He believes that it's important for business owners to establish a relationship with a seasoned banker, accountant and attorney before applying for a loan. Don advises that expressing your business goals and asking plenty of questions is essential and that proper planning is imperative to getting your loan approved and operating a successful business.
Don graduated from Penn State University in 2001 with a Bachelors Degree in Business Administration. He also attended the ABA Commercial Lending School in Dallas, Texas in 2004. Don resides in Shepherdstown, WV with his wife Jessica, and their children Isabella and Cameron. He is a Board Member for JUMP Youth Mentoring Group and serves in many capacities at Airborne Church.
Contact Don

Want to connect with Don? Contact him today to discuss your commercial financing needs!