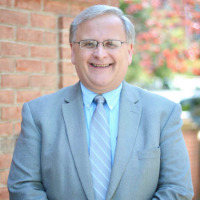 Jeff Keller is the EVP & Chief Credit Executive
and is located at our Main Office in Shepherdstown. He has been with JSB for 29 years.
Obtaining a BA and BS from Shepherd College and a graduate degree in public administration from James Madison University in 1985, Jeff originally intended a career in public service, but accepted a loan officer position in order to gain private sector experience and stayed in the industry. With a total of 35 years in commercial lending, he has worked on a variety of commercial retail, industrial, ag and land development projects during that time. He also, is experienced with complex or non-conforming residential projects and has financed multiple Bed & Breakfast facilities.
A life-long resident of West Virginia, Jeff has lived in Berkeley County for 32 years. During that time he has served multiple public boards including the Berkeley County PSSD, the Opequon PSD and multiple terms on the Berkeley County Planning Commission. He currently resides in the Greensburg area with his wife Nanette and their five cats.
Contact Jeff

Want to connect with Jeff? Contact him today to discuss your
mortgage
,
personal
&
commercial financing
 needs!