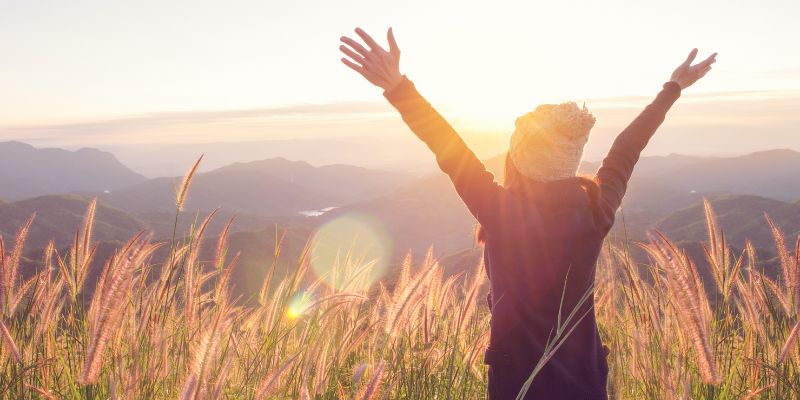 Boost Your Knowledge with These Helpful Resources for Financial Literacy Month
Personal finances are a historically taboo subject in most American households. This attitude has led many generations of Americans to grow up without a basic understanding of money management and wealth building. In an effort to remedy the lack of financial education in our country, the US Senate passed Senate Resolution 316 in 2004. SR 316 designates the month of April as Financial Literacy Month.
At JSB, we support a month dedicated to promoting financial education and increasing smart money habits. By providing access to personal finance education and money management resources, we hope to bolster our community's financial health.
"As a local community bank, our financial literacy initiatives align with our mission and our leadership's passion and commitment to supporting lifelong financial wellness. That commitment is why we partner with local schools and organizations to provide financial education that will positively impact and strengthen our community."

Jenna Kesecker, Executive Vice President and Chief Financial Officer
In celebration of Financial Literacy Month, JSB has cultivated this list of resources to help build strong and healthy communities in West Virginia.

Financial Resources offered by JSB
As part of our commitment to financial wellness, JSB offers a variety of educational tools to help you build wealth and protect your money. From in-person classes to online tools, we can help you find the best money management resources to fit your needs. With JSB, you can increase your financial literacy with tools like:
My Money Manager
A JSB online financial management tool located within online and mobile banking, My Money Manager allows you to set short-term and long-term financial goals and track your spending. This budgeting and planning tool is customizable to help you make smart financial decisions and achieve financial freedom.
Zogo
Increasing your family's financial literacy doesn't have to involve boring lectures. Financial literacy apps like Zogo turn learning into a game. Developed by a group of Duke University students, Zogo guides its users through over 300 quick financial lessons.  By completing the short quiz following each Zogo lesson, you earn points that are redeemable for gift cards to online retailers. Download Zogo for Apple or Google and join with our code, JSB, to get bonus points in the app.
In-person Financial Literacy Presentations
Your local JSB office invites you to consider in-person education events. These financial literacy presentations feature subjects like "Teach Children to Save" and "Safe Banking for Seniors" Contact your closest JSB location to learn more about the availability of in-person education events.  

Books to Increase Financial Freedom
Books are an excellent means of learning about financial topics and building good financial habits. At your local library, you can access resources in the form of both physical books, audio books, and eBooks which allow you to read and learn at your convenience. With so many financial self-help books on the market, it may be hard to decide where to start. Here is a list of five popular financial books to help improve your financial literacy.
"The Total Money Makeover" by Dave Ramsey
For years, families have relied upon "The Total Money Makeover" to solve their debt problems and create healthy financial futures. Dave Ramsey's 7-step plan focuses on changing personal behavior and habits.
"Rich Dad, Poor Dad" by Robert Kiyosaki
A global best-seller, "Rich Dad, Poor Dad" challenges the common belief that you have to make a lot of money in order to be financially stable. Kiyosaki teaches readers how to grow the money they already earn rather than trying to earn more money at work.
"Your Money or Your Life" by Vicki Robin
"Your Money or Your Life" is a personal finance program that encourages readers to change their relationship with money. By changing your mindset and habits, Vicki Robin believes that you will find that you already have enough money to be happy and financially successful.
"The Simple Path to Wealth" by JL Collins
If you are interested in learning more about specific financial topics such as debt management, building wealth, investing, retirement planning, and avoiding scams, "The Simple Path to Wealth" may be the right book for you. Collins offers practical strategies to achieve financial independence.
"The Compound Effect" by Darren Hardy
"The Compound Effect" is a good read for those who wish to tackle their financial planning by carefully managing their small, everyday decisions. Each decision, Hardy suggests, compounds upon the next and determines the success or failure of your financial goals.

Financial Education Blogs
 If finance books seem daunting or dull, money management blogs can provide shorter articles that explore both broad topics and specific financial situations. Blogs are often written by authors with either personal or professional financial experience and feature their own unique voice and perspective. With a little searching you should be able to find a blog that speaks to your specific financial situation and learning style. Here are five popular financial blogs to get you started:
The JSB Financial Education Blog
Our comprehensive financial education blog is dedicated to helping individuals make informed decisions about their money. With topics ranging from budgeting and savings to investing and retirement planning, the JSB Financial Education Blog provides valuable insights and resources for anyone looking to take control of their financial future.
Get Rich Slowly shares stories about debt elimination, saving money, and practical investing. Whether you want to retire early or eliminate debt, J.D. Roth may have the answers you need.
Money Under 30 was founded in 2006 by David Weliver, who dug himself out of more than $80,000 in debt in just three years. The site features content from numerous authors providing advice for young adults wanting to make informed decisions about where their money goes.
Money offers a casual financial blog in which he shares everything he has learned about money in the last 14 years. Now 42 years old and retired, the author shares his experiences with money, family, and his new skateboarding hobby.
A finance blog that promotes personal responsibility, Len Penzo writes about mortgages, budgeting, taxes, and early retirement. Blogging since 2008, Penzo believes anyone can attain financial freedom.

Financial Education YouTube Channels
For visual and auditory learners, YouTube offers a variety of content covering credit management, investing, budgeting, and more. You can choose from tutorials, lectures, and demonstrations presented in a variety of styles. Here are five popular YouTube channels that can help grow your financial literacy.
The Financial Diet YouTube channel features conversations about everything you wanted to know about money and living better. Videos cover topics like "The Everyday Financial Scams Pretending To Help You" and "How To Invest For Your Goals During A Recession."
Highlights from The Ramsey Show feature important discussions regarding money, careers, relationships, and how they impact your life.
The Minimalists are Emmy-nominated Netflix stars and New York Times–bestselling authors Joshua Fields Millburn and Ryan Nicodemus. Alongside their podcast co host, T.K. Coleman, their videos aim to help people live with less and enjoy the financial freedom that comes with embracing a minimalist lifestyle.
The Mad Fientist offers advanced strategies for pursuing financial independence and early retirement with videos like "Raising Money-Smart Kids" and "Valuable Lessons from My Fourth Year of Freedom."
Minority Mindset is on a mission to help spread financial education with videos like "How to Use ChatGPT to Become a Millionaire" and "Is the Recession Finally Canceled?"

Financial Education Mobile Apps
Building strong financial habits is an important way to increase your financial literacy. With mobile banking, budgeting, and investing apps, you can prioritize your financial health and integrate money management into your daily routine. Whether you are looking to keep an eye on your checking account or invest your spare change, these apps can help you achieve financial freedom.
JSB's Online and Mobile Banking system has been upgraded and is now available. Pay bills, make mobile deposits, and manage your checking and savings accounts from the convenience of your smartphone.
The YNAB budgeting app helps you track your spending and save more. Filled with tutorials and guides, YNAB is designed to help you learn smart money management strategies while making it easy to see where your money goes each month.
EveryDollar has helped over 10 million people learn to love budgeting by taking the stress out of planning and managing money. Designed to help you account for every dollar you earn, Everydollar is based on Dave Ramsey's zero-based budgeting method.



Financial Freedom is Within Reach
JSB has been dedicated to the education of our community since 1869! Serving West Virginia and Sharpsburg, Maryland, our associates are always ready to help. Stop by a JSB office in your community or give us a call. We have the checking account, savings account, or home loan that you need to build financial strength and achieve financial freedom.
The content in this blog provided does not represent the expressed opinions of JSB, these resources are provided as a self-help tool. For additional information, feel free to contact your local JSB.