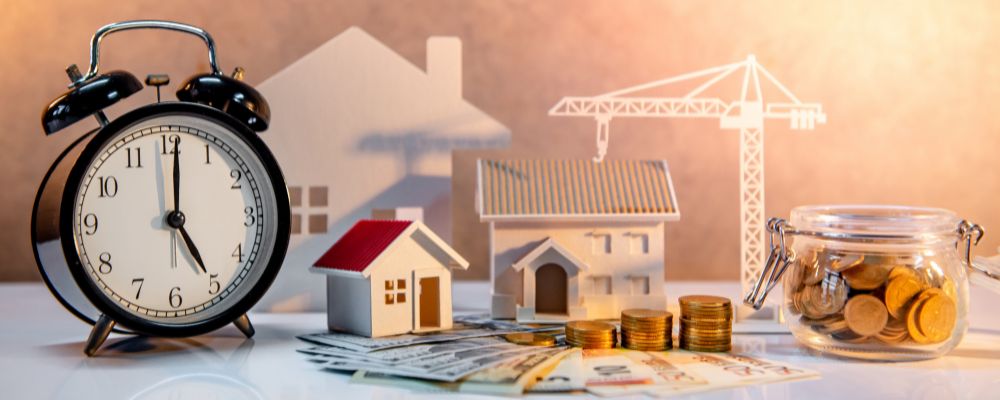 When is the best time to apply for a mortgage?
With current mortgage rates nearly double what they were a year ago, many potential homebuyers are wondering if now is the right time to purchase a home. These concerns make sense—higher rates can certainly reduce what you can get for your budget, even putting home buying out of reach. 
However, while interest rates have risen, they are nowhere near the high levels reached in the 1980s, when mortgage rates peaked at over 18%. Though mortgage rates may play a large role in your decisions around purchasing a home, they certainly aren't the only thing to consider. Housing market conditions, as well as crucial aspects of your current financial picture including your credit score and debt-to-income ratio, are equally important considerations. 
So how do you know when to apply for a mortgage and take the plunge into homeownership? This post will cover the main questions you'll need to ask to help you make the call. Keep reading to learn more!


Personal Finance Considerations
When determining if it's the right time to apply for a mortgage loan and purchase a home, first, you'll want to consider your own current financial situation and housing needs. Here are just a few of the most important questions to ask.
How long do you intend to stay in your new home?
Before you take the plunge into homeownership, consider that the upfront costs of purchasing a home, in terms of interest payments and closing costs, can offset the financial benefits of homeownership. In fact, if you plan to move in 5 years or less, it may make more sense to rent.
When home prices are rising rapidly in line with rent, even if you do plan to move in a few years, the increasing value of your new home and stability of a fixed housing cost can mean buying can still be a good deal. But rarely does it make sense to purchase a home if you plan on moving within a few years' time. Speak to a real estate agent to see if purchasing a home is a smart move for you. 
How much house can you afford?
Before you begin your search, it's important to consider what an appropriate spending limit for your new home will be. You'll start by analyzing your current income and expenses (including debt payments), to help you determine what size monthly mortgage payment will best fit into your budget.
To get started creating a budget, check out our budgeting guide, which includes details on how to calculate your monthly cash flow, as well as different spending systems to follow to ensure you stick to a plan—especially important if you are saving for your down payment. Once you have a good understanding of your current income, costs, and spending habits, you can work out a range for an affordable housing payment. 
So how do you know how much you can afford? One standard rule of thumb you can use is the 28/36 Rule. According to this principle, no more than 28% of your take home income (after taxes) should go toward home-related costs and no more than 36% of your income should go to your debts. This includes car loans, student loans, credit card payments, and, of course, your new mortgage payment. 
For example, if our homebuyers clear $7,000 each month, their housing costs should not exceed $1,960 per month, or 28% of their income, and their total monthly debt load should not exceed $2,520—36% of their income. If they also have a $300 car payment, a $100 student loan payment, and a $200 credit card payment, that means their mortgage payment should not exceed $1920 each month. A maximum monthly home loan payment (including taxes and insurance) of around $1,900 makes sense for our home buyers. Working with their real estate agent and bank, they can use current interest rates and estimates for insurance and local taxes to determine what that figure translates to in terms of a home price.
Do you have enough cash saved?
Being able to afford the monthly payment is a big step in buying a home. The other factor to consider is having enough cash to move forward with your purchase. When purchasing a home, you'll need to be able to cover the following costs:
Down payment – This is determined as a percentage of the purchase price of the home. While FHA (Federal Housing Authority) loans, popular among first-time homebuyers, allow you to put as little as 3.5% down, a conventional mortgage could require up to 20%. Speak to someone on our local lending team to find a mortgage product with a down payment requirement that is right for you.


Closing costs – Ranging from 2 - 6% of your total purchase price, closing costs include property taxes, title insurance, and more. While sometimes a seller's assist can help offset these costs, don't count on it. Be sure to save up enough to cover them.


Repairs and ongoing maintenance – As a general rule, you should save 1% of your home's purchase price for ongoing repair costs. Additionally, it's likely your inspection will turn up a few things that may need to be addressed before you move into your home. Sometimes the seller will agree to pay for these repairs or reduce the cost of the home to offset them, but in competitive markets, you may need to take on these costs yourself.


Emergency fund – A common mistake many first-time homebuyers make is spending all their cash reserves on not only home purchase costs, but also moving, renovations, and decorating expenses. But life keeps going, even though you just made a major purchase, and emergency expenses can arise. Be sure to keep enough in your emergency fund to take care of unexpected costs to ensure financial stability as you transition into home ownership. 
Will your credit score allow you to qualify for a competitive mortgage rate?
Getting a low interest rate on your mortgage is key to home affordability. Generally, the higher your credit score the lower the interest rate you will qualify for, resulting in a lower monthly mortgage payment. Taking steps to improve your credit in the months or year leading up to your home loan application are crucial. Before you apply for a mortgage, you want to take some steps to ensure you get the best rate possible:
Paying off debts like a large credit card balance or a student loan can pay dividends when trying to buy a house because it lowers your credit usage ratio and debt-to-income ratio—two important calculations for qualifying for a mortgage.
If you can't pay off a credit card balance in full, pay it down as much as possible. 
Pay all debts on time. If you have a history of late payments, it will affect your score. However, the most recent payments have the most weight—so be sure to pay all your bills each month, and on time, to give your score a bump.
Don't take on any new debts or close accounts. Credit inquiries and new accounts damage your score—and closing a credit account will reduce your available credit, potentially raising your credit usage ratio. It's great to pay off a loan, but don't open or close any credit accounts while preparing to apply for a home loan.



Current Market and Seasonal Considerations
If you feel like you are in a good financial position to purchase a home, and are prepared to make a long term commitment to homeownership, then it's time to start examining conditions outside of your personal situation to determine when (now or in the near future) is the best time to purchase a home.
Time of Year
Spring and summer are the most popular times for people to move. Why is that? Warmer weather and school summer vacation makes planning and moving easier. When planning your home purchase, consider that housing inventory tends to increase during the spring, giving you more choices. However, spring is also the busiest house-hunting season, so competition and prices will likely be at their highest. 
If you are able to be flexible with your timing, you might be able to find a better deal house shopping during colder months—especially as winter holidays approach. The lower demand for homes will give you some bargaining power, though keep in mind that inventory will likely be lower as well. 
Time of the Month
While you may not have much control over when you make an offer, when seeking a preapproval for a loan, it can help to get the process started at the beginning of the month. Applying for a mortgage at the beginning of the month is best because as the month progresses, loan officers become increasingly busy as they attempt to close applications before the end of the month. Applying for your loan during the final stretch could result in delays and unnecessary stress.
Local Markets
Rising home prices is an important factor to consider when determining if it makes sense for you to buy your first home if you are renting, or upgrade to a larger home—especially as mortgage interest rates have climbed recently, too. However, do keep in mind that although home values have risen in the Eastern Panhandle of West Virginia in the past few years, they still come in significantly below national averages, making our local market fairly affordable by comparison. 
In fact, the average local home value is currently around $357,338, according to Zillow—significantly lower than the national average home price of $428,700. Coupled with the lower cost of living (about 12 percent below the national average), price impacts may not affect residents in our region as much as other parts of the country. 

Preparing for the Process
When you've decided you're ready to purchase a home, keep in mind that before you apply for your loan, you'll have to take some steps to prepare for the process. In fact, the loan application process may feel like an afterthought in the excitement of your house hunt, but it can be one of the most involved steps. And, if you are moving from one home to another, you'll also need to consider what you need to do to get your current home ready for sale. 
Have your documentation ready.
You may be wondering, "What do I need to apply for a mortgage?" And the answer is both simple and complex: everything your bank will need to have an accurate view of your financial situation. You'll need official documentation of assets, income, and debts. These will include:
Tax returns for past two years
Pay stubs, W-2s, and other proof of income
Bank statements and documentation of other financial other assets
Credit card statements
Gift letters for any sums of money larger than half your monthly income
Photo ID
Rental history

Get a preapproval.
While getting a prequalification before you begin your search will verify an approximate housing budget, because a mortgage prequalification is a less formal process, it may not bear much weight to potential sellers.  Getting preapproved with your lender before you start shopping is essential, especially in tight housing markets. It not only shows sellers and realtors that you are serious, but it also gives you a firm idea of how much you can afford. Your preapproval will allow you to put in a solid offer quickly when the time comes—don't miss out on your dream home to someone else who got their preapproval! Be sure to get yours well in advance.
Get your current home ready to sell.
If you're selling a home at the same time you plan to purchase a home, it can complicate the process and timeline. It makes sense to consult with a real estate agent about selling your home, before you start a serious search for a new place to live. This will help you create a plan and a schedule for completing any necessary repairs, renovations, and projects to make your current home appealing to potential buyers.
Working with a real estate agent to make plans for selling your house is also pivotal in helping you to develop a budget for your new home purchase. Expensive necessary repairs can reduce the amount of cash you have available for a down payment, particularly if you may need to put an offer on your new home before the old one sells. And determining a reasonable asking price for your current home will also be largely affected by how much you can get for your current residence.

Ready for the next steps?
Buying a home is an exciting time—but it is also one of the largest purchases most people will ever make. Navigating the process of buying a home (and possibly selling one at the same time!)—with dozens of decisions to make and boxes to check—can be an overwhelming process. That's why it's so important to work with experienced homebuying professionals throughout the process, from seasoned local real estate agents to trustworthy mortgage lenders.
At Jefferson Security Bank, we've been helping members of our community achieve the stability and financial milestone of homeownership since 1869. We will work with you to match your lending needs to the right home loan product, assist your real estate agent when it's time to put in an offer, and work hard to ensure your closing process goes off without a hitch. 
Have questions about how to apply for a mortgage? We're happy to answer them! Reach out to us to start a conversation with one of our local mortgage experts in Shepherdstown, Martinsburg, Charles Town, and Inwood, West Virginia and Sharpsburg, Maryland today!